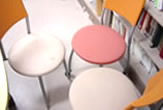 About the Department
"Clinical philosophy" was first advocated by a philosophy professor, Kiyokazu Washida, seeking a possibility of philosophical thinking situated in our actual life. By 'clinical philosophy' Washida means philosophy on the spot of suffering, suffering not only in the field of medicine or nursing but in any other fields. (The word 'clinical' originates in the Greek word 'klinikos' which means 'bed side'. )
It might have been imagined that clinical philosophy is a type of applied ethics, but this is not the case. Clinical philosophy is against the idea of application, which presupposes certain principles being established. On the contrary, clinical philosophy stresses the importance of philosophical reflection emerging in concrete scenes of our life.
In 1998 after several years of preparation, Washida, together with his colleague Narifumi Nakaoka, started a official course in clinical philosophy at Osaka University Graduate School of Letters. Along with traditional philosophy and ethics classes, Clinical Philosophy seminar is held every Friday evening. Nurses, teachers, and people from other fields attend it as well as students of ethics. "Care" is one of the main topics in the seminar, and active discussions are going on. Besides that, a group of students is working on problems of education. The problem of children who don't attend school has been the main topic of discussion. They also start doing philosophy with high school students.
Not only as a group but individually students are working on different kinds of topics, such as sexuality, the handicapped, "excellent students", environmental problem, performing arts and so on. On the other hand, every student studies classical texts written by western philosophers and prepares for the thesis for master or doctor degree. Learning traditional philosophy would help them to reflect on concrete problems.
Some members of clinical philosophy would like to cooperate with those who put in practice philosophical thinking in the society, such as Philosophy in Practice (Philosophical Counselling), Philosophy for Children, Socratic Dialogue and Philosophical Cafe/Dinner. Some of us are strongly interested in and inspired by Socratic Dialogue, and have been trying to organized some workshops for Socratic Dialogue (1day SD). And several times we had successfully held Philosophical Cafe&Bar.

Themes we talked about in Socratic Dialogue
* "Understanding the other"
* "What is Caring?"
* "Life and Ethics"
* "Freedom and Constraint"
* "What is responsibility?"
 
Themes we talked about in Philosophical Cafe&Bar
* Self-determination
* About Love
* Fortune and Misfortune
* Kindness and Meddlesome
* What is 'Quality of Life'?
Staffs
NAKAOKA, Narifumi
[Year of Birth]1950
[Position]Prof., Chair of Philosophy, Division of Studies on Cultural Forms
[Degree]M.Lit. Kyoto Univ., 1975
[Research Topics]Social Ontology.
[Research Keywords]Hegel, dialectics, Hermeneutics, Habermas, Kyoto-school of Philosophy, Systemstheorie.
[Major Publications](1) Habermas, Kodansha, (1996), (2) Paradoxes of Knowledge, (coedit.) Iwanami, (1997), (3) A History of Western Philosophy


HAMAUZU, Shinji
[Year of Birth]1952
[Position]Prof., Chair of Philosophy, Division of Studies on Cultural Forms
[Degree]Ph.D.Kyushu Univ., 1984
[Research Topics]Phenomenology, Applied Phenomenology, Intercultural Phenomenology.


HOMMA, Naoki
[Year of Birth]1970
[Position]Associate Professor, Chair of Philosophy, Division of Studies on Cultural Forms
[Degree]M.A.1994
[Research Topics]Phenomenology, System Theory.


MINAE, Inahara
[Year of Birth]1972
[Position]Assistant Professor, Chair of Philosophy, Division of Studies on Cultural Forms
[Degree]Ph.D., University of Hull., 2007
[Research Topics]Phenomenology of Disability, Feminist Philosophy