Kaitokudo-fuku
Kaitokudo was founded as an academy in the ninth year of the Kyoho era(1724), and contributed to the development of education and of business morality (which was important in a merchant city like Osaka.), for the following 140 years of Edo period.
It is also said that it has prospered as much as the Shoheizaka academy which was one of the most successful academies in Edo city. Many luminaries such as Nakai brothers(Chikuzan and Riken), Tominaga Nakamoto, Yamagata Banto studied here.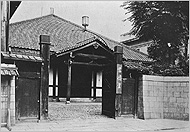 Entrance of Choken-Kaitokudo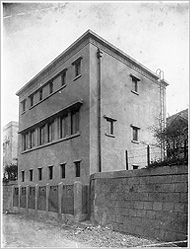 Library and the Research Wing of Choken-Kaitokudo
After it had closed in the second year of the Meiji era(1869), Kaitokudo was rebuilt in the fifth year of the Taisho era(1916). Kaitokudo Kinenkai, a legally incorporated foundation, was organized for the purpose of making Kaitokudo popular again.
This new Kaitokudo (Choken-Kaitokudo) had played an important role in the education in Osaka, as a civic and liberal arts college until it was burnt down in the great Osaka air raid in 1945 (the twentieth year of the Showa era).
Thirty six thousand items, which fortunately survived the fire, were donated to Osaka University by the Kaitokudo Kinenkai, on occasion of the foundation of the faculty of Literature in 1949.Since then the Kaitokudo Kinenkai has cooperated with the University to operate many projects and events.

The sprits of the school such as respect for ethics and morality, availability to all citizens, and the big weight which was put on liberty and creativity, have never changed throughout the history of Kaitokudo.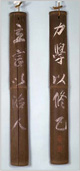 Nyutokumonren

Sadamegaki

| | |
| --- | --- |
| 1724 (Kyoho 7) | Foundation of Kaitokudo |
| 1726 (Kyoho 11) | Official recognition by the Edo Shogunate as 'Osaka Gakumonjo' |
| 1838 (Tenpo 9) | Establishment of 'Tekijuku' by Ogata Koan |
| 1869 (Meiji 2) | Closing of the original Kaitokudo |
| 1910 (Meiji 43) | Foundation of Kaitokudo Kinenkai |
| 1913 (Taisho 2) | Kaitokudo became recognized as a non-profit corporation |
| 1915 (Taisho 4) | In June, the reopening of Kaitokudo was decided. In October, a Shinto ceremony was conducted. |
| 1916 (Taisho 5) | In September, the construction of Choken-Kaitokudo began. |
| 1926 (Taisho 15) | On October 31, the construction of the three-storied library and research wing began. |
| 1945 (Showa 20) | On March 14, during the Osaka air raid, the lecture hall and the office wing were lost in fire. The library survived. |
| 1949 (Showa 24) | Kaitokudo Kinenkai donated thirty six thousand pieces of rare and important material to Osaka University. This collection was named 'Kaitokudo Library' and the research and investigation of it began. |
| 1976 (Showa 51) | Publication of "Kaitokudo Bunko Tosho Mokuroku" (Catalogue of the Books from the Kaitokudo Library) by the Faculty of Letters of Osaka University. |
| 2000 (Heisei 12) | Digitization of the information of the Kaitokudo Library began. |
| 2001 (Heisei 13) | As a part of the seventieth anniversary event of the Osaka University, a demonstration of the old Kaitokudo school buildings using computer graphics, and the public exhibition of the database of the rare material from the Library were brougtout. |
| 2005 (Heisei 17) | The reconstructed model of Choken-Kaitokudo was completed. |