Archaeology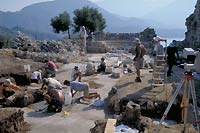 The Archaeology section features only two faculty members: Professor Shinya FUKUNAGA and Professor Teruhiko TAKAHASHI. Although the major focus of research and educational activities is on Japanese archaeology, faculty members and graduate students are eager to conduct archaeological surveys in Europe, the Mediterranean coast and East Asia, and to commit themselves to the study of comparative archaeology.
In addition to annual excavation survey projects and subsequent work of classifying unearthed artifacts, activities considered essential for archaeology education, the graduate school curriculum emphasizes discussions of the methodology of archaeology and cultural sciences, to educate researchers who will lead the field of Japanese archaeology from a global perspective.
Despite the relatively short history of this section, many alumni are active at the forefront of archaeological studies, working for universities, research centers, boards of education and museums nationwide.
Professors
FUKUNAGA, Shinya (Ph.D.)

Japanese Archaeology; Mortuary Practices, Political History in Kofun Period, Ancient Bronze Mirrors

TAKAHASHI, Teruhiko (M.Lit.)

Japanese Archaeology; Manual Industry, Cultural Exchanges in Nara and Heian Period, Ancient Pottery and Ceramic
Associate Professor