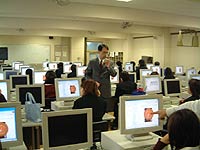 Chinese philosophy – of which the Hundred Schools of Thought is representative – offers profound insight into the world and human nature and has majorly influenced culture formation in East Asia, including in Japan.

Students in this major study the important Confucian, Taoist, legal, and military thinkers who contributed to the formation of Chinese thought. In addition to classical works, they revisit commonly accepted theories in light of new materials discovered in recent excavations.

The course also considers the Edo-era Kaitokudo school, the predecessor to the Osaka University School of Letters. Students have the opportunity to engage in empirical study of Japanese sinology and its foundational Cheng-Zhu school through contact with precious manuscripts relating to the Kaitokudo , which can be found in the faculty library.

The course offers its students a fantastic opportunity to learn about Chinese thought, whose influence is all around us yet little understood.
Professor
SHIN, Hyeon (Ph.D.)

Chinese Philosophy; Book of changes; Chinese Ancient Thought
Associate Professor (Lecturer)