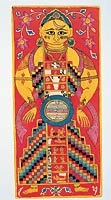 Students in this major will study various areas of Indian thought and religion, including Buddhism. Specifically, a core part of study will consist of reading works written primarily in Sanskrit and its derivatives (such as Pali). Although to beginners, Sanskrit may appear challenging, it is a clear-cut language. In a "logical" world, Indian philosophy's use of such a precise language makes language study a suitable tool to sharpen one's critical and logical thinking as well as develop one's ability to identify and resolve issues faced by modern society.

Students are expected to engage with a wide range of original texts to gain an understanding of how the ideas of "karma" and "reincarnation" developed before the arrival of Buddhism, as well as how Indian Buddhism differs from the modern Buddhism found in Japan. In addition to the classical languages that appear in these texts, students will need to dedicate themselves to developing proficiencies in various modern languages (they will need to learn – in order of priority – German, English, and French to read dictionaries, grammar books, and monographs). As such, the course is the perfect launchpad for students enthusiastic about taking on challenges and problem-solving.

In terms of academic objectives, in their second year, students are expected to develop strong foundational knowledge and scholastic abilities (especially Sanskrit proficiency). From the third year, students engage with research materials that make use of original works as part of mutual academic exchange with graduate students. In the fourth year, students are expected to write an undergraduate dissertation founded upon a precise understanding of original materials and clear, logical arguments.


Professor
DOYAMA, Eijiro (Ph.D.)

Indology, Historical Comparative Linguistics; Grammatical Study on Indo-Iranian Languages (Vedic, Avestan, Old Persian etc.)
Associate Professor (Lecturer)