Chinese Philosophy
Chinese philosophy is an empirical study analyzing traditional Chinese thought through detailed study of Chinese classic literature, and clarifying characteristics of East Asian cultures.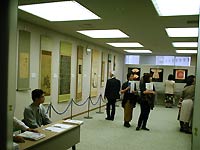 Major subjects in this field include "Chinese Philosophy," characterized by the reading of Chinese classics, including Confucianism texts, texts by other ancient philosophers, and materials discovered in recent excavation; "Studies of Chinese Culture," a subject for imparting knowledge essential for reading such documents (knowledge of traditional political and economical systems, religions, mythology, Chinese characters, vocabulary, phonemes etc.), and "Chinese Material Science," designed to develop professional knowledge of materials written in Chinese characters, and skills to handle and maintain such materials.
As the secretariat of Osaka University Society of Chinese Studies, faculty members organize study meetings several times a year and publish a journal "Chugoku Kenkyu Shukan" (Studies on China). In addition, students participate in conservation of the Kaitokudo collection and preparation of its electronic data.
Professor
YUASA, Kunihiro (Ph.D.)

Chinese Philosophy; Chinese Ancient Thought, Classical Chinese Texts of Kaitokudo
Associate Professor
SHIN, Hyeon (Ph.D.)

Chinese Philosophy; Book of changes; Chinese Ancient Thought