German Literature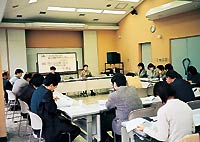 In the German Literature section, students study the literature, culture and various other cultural aspects interwoven in the German speaking area. Although this primarily entails thorough understanding of German texts, it also requires a quest for original themes based on studies of the history of German thought and society.
The Osaka University Society of German Literature, comprising mainly Graduate School alumni, is committed to various activities including publication of its journal "Dokubungakuho" and research meetings.
The Section also supports the annual celebration of Goethe's birth, held on August 28 in Osaka by the Japan Goethe Association, to promote Japan-Germany cultural exchange in Osaka and nearby regions. For further information, visit the Website.
Professor
MITANI, Kenji (Ph.D.)

German Literature, Austrian Literature; Study on Modernism in Central Europe
Associate Professor
YOSHIDA, Kotaro (M.Lit.)

German Literature and German Culture; Study on Cultural History in Eighteenth-Century Germany

Specially Appointed Associate Professor

TELGE, Claus (Ph.D.)

German literature, literary and cultural theory, world literature in translation