Japanese Historical Linguistics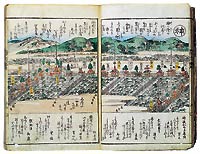 The Japanese Historical Linguistics section concerns both diachronic and synchronic linguistic studies of Japanese language in terms of phonemes, characters, transcription, grammar and vocabulary, from ancient times to modern and present day. While the Japanese Linguistics section mainly targets currently used language, the History of Japanese Language and Linguistics section mainly focuses on diachronic studies of Japanese language before the Meiji Period (1868 - 1912). Since empirical verification using literary works is essential, students must build sufficient knowledge of Japanese literature.
 Each faculty member provides individual students with instructions and training to develop their paper-writing skills. Together with students of the Japanese Literature and Comparative Literature section, students of this section have an interim presentation of master theses in October, and research presentation meetings in July and November. Students are also encouraged to present their studies at academic meetings.
 The secretariats of the Society of Historical Studies in Japanese Vocabulary and the Linguistics Colloquium on Saturday are located within the research room of this section.
Professors
KINSUI, Satoshi (Ph.D.)

Japanese Linguistics; Historical Study of Japanese Grammar

OKAJIMA, Akihiro (M.Lit.)

Japanese Linguistics; History of Japanese Language and Japanese Linguistics
Associate Professor
KISHIMOTO, Emi