Musicology and Theatre Studies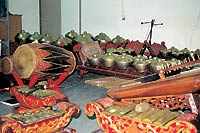 Osaka University is one of the few Japanese universities that offers courses in musicology and theater studies. Musicology students are given the opportunity to gain a broad overview of general musical cultures through a comprehensive study of musical activities, encompassing Western classical music; folk and traditional music of the world, including that of Japan; and popular music of all sorts.

Theater Studies students learn about a wide variety of performing arts, ranging from Western European theater and classical Japanese theater to musicals and ballet. In addition to the histories of music and theater, students explore how music and theater relate to neighboring disciplines such as anthropology, sociology, aesthetics, and literature. The department boasts a sizable number of graduate students, all passionately engaged in specialized research. The great diversity of our graduate students' specializations and intellectual backgrounds encourages lively debate in daily lectures and seminars. Students are expected to write and prepare oral presentations for academic conferences, partake in the plentiful opportunities for participation in concerts and play performances, and always act with research outreach in mind.
Professors
NAGATA, Yasushi (M.Lit.)

Theatre Studies; Theory and Practice of Modern Theatre, History of Russian Theatre, Theory of Performance Analysis

ITO, Nobuhiro (Ph.D.)

Musical Folklore of East Europe; History of East European Music, Study on Vienna-Budapest Operattas
Associate Professors
WAJIMA, Yusuke (Ph.D.)

Popular Music Studies; Ethnomusicology, History of Japanese Popular Music

NAKAO, Kaoru (Ph.D.)

Theatre Studies; History of Noh Theatre, Theory of Noh Text Analysis

KOGO, Naoko (MA)

Dance Studies; History of German stage dance, Theory of Dance and Performance