Archaeology
This major course has only two faculty members dedicated to the course: Professor Shinya FUKUNAGA and Associate Professor Teruhiko TAKAHASHI. Despite its relatively small scale, the course has many students and its seminar room is active day and night.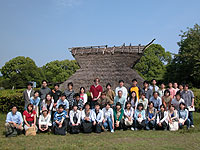 Taking advantage of the university's geographical location in the Kinki region, locus of Japanese ancient capitals, the major focus of research and educational activities is on Japanese archaeology. The faculty members and graduate school students, however, are eager to engage in overseas archaeological surveys and comparative studies, which are effective in resolving various archaeological questions in Japan from global perspectives. In addition to seminars and lectures, excavation surveys are organized every summer. Following excavation, which takes more than one month, students classify and analyze unearthed materials during autumn and winter. Through these experiences, students learn that they cannot study archaeology by keeping their hands clean, but they should become muddy and sweat-soaked in fieldwork. These experiences are essential for all beginners aspiring to become archaeologists.
Benefiting from such invaluable experiences, alumni are active in various fields: some are working at archaeological sites, as well as in museums as curators; others have become teachers, public employees, journalists and businesspersons.
Professors
FUKUNAGA, Shinya (Ph.D.)

Japanese Archaeology; Mortuary Practices, Political History in Kofun Period, Ancient Bronze Mirrors

TAKAHASHI, Teruhiko (M.Lit.)

Japanese Archaeology; Manual Industry, Cultural Exchanges in Nara and Heian Period, Ancient Pottery and Ceramic
Associate Professor