Chinese Philosophy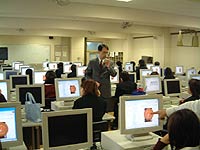 "Chinese philosophy" is a positive study that analyzes traditional Chinese thought through the study of Chinese classic literature, and clarifies the characteristics of East Asian cultures.
In addition to classes for reading Chinese classics, seminars are provided that feature discussions with the aim of preparing papers. As compared with similar courses in other universities, this major course is unique in that it adopts new materials discovered in recent excavation, together with Chinese classics accumulated in the Kaitokudo Bunko Library, whose origin dates back to the early 18th century.
Thanks to the relatively small number of students, faculty members and students maintain close partnerships. Classes feature a solemn atmosphere, and students are enthusiastic to study. As the secretariat of the Osaka University Society of Chinese Studies, members of this course organize study meetings several times a year and publishes a journal "Chugoku Kenkyu Shukan (Studies on China)." In addition, members of this course participate in conservation of the Kaitokudo collection and in preparation of its electronic data.
Professor
YUASA, Kunihiro (Ph.D.)

Chinese Philosophy; Chinese Ancient Thought, Classical Chinese Texts of Kaitokudo
Associate Professor
SHIN, Hyeon (Ph.D.)

Chinese Philosophy; Book of changes; Chinese Ancient Thought