English and American Literature and English Linguistics
This major course is designed to study the literature, language and culture of English-speaking peoples in the following three fields: English literature, American literature and English linguistics.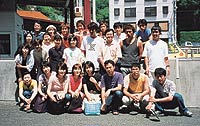 In the fields of English and American literatures, lectures are provided to encompass various works of diverse periods, ranging from Shakespeare's plays to modern English and American novels, as well as a variety of genres, including poetry, novels, plays and criticism. Through various seminars and lectures, students develop their abilities to read literary works with accuracy and learn the methodology of literary studies. Students are expected to select their study theme based on their own interest, and write a graduate thesis.
The field of English linguistics features studies of generative grammar, functional grammar, cognitive linguistics and pragmatics. In any study, students learn both English structure and practical usage. In addition, students are expected to read important articles and books in the literature, collect and analyze examples of practical usage, and understand the structure and various other characteristics of present-day English.
Professors
HATTORI, Noriyuki (Ph.D.)

English Literature; 18th Century English Novel, Modern Critical Theory

OKADA, Sadayuki (Ph.D.)

English Linguistics, Functional Grammar, Iconicity in Syntax, Study on Coordination and Subordination

KATAFUCHI, Nobuhisa (Ph.D.)

American Literature; Jewish American Fiction, Adaptation Studies

KATO, Masaharu (MA)

English Linguistics

KAMIYAMA, Takao (Ph. D.)

Comparative Linguistics of Indo-European Languages; Phonetics
Associate Professors
YAMADA, Yuzo (Ph.D.)

English Literature; English Drama; Cultural Studies

ISHIWARI, Takayoshi (Ph.D.)

American Literature


TANAKA, Eri

Foreign Assistant Professor

HARVEY, A. S. Paul (M.Phil.)

English Language, English Literature (1500-1660); English Literature, Japanese Drama