German Literature
Students of this course study the literature and culture of the German cultural sphere, encompassing Germany, Switzerland, Austria and other Central European countries.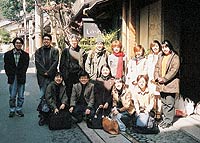 Modern Japanese culture has been impacted significantly by German literature and thought, ranging from medieval legends to works of the great writer Goethe, the Grimm brothers, Marx and Nietzsche, and further to Freud and Kafka. German literary works and thought, however, must be understood in the political, social and cultural contexts of individual epochs, since literature and thought cannot remain independent of historical or social backgrounds. It is also important to consider the mutual influences between literature and music, movies, paintings and architecture.
Students of this course are expected to read texts as deeply as possible, and to learn methods for thinking over and expressing their ideas precisely, yet boldly. Students can develop close relationships with faculty members and can study in a free and friendly atmosphere.
Professor
MITANI, Kenji (Ph.D.)

German Literature, Austrian Literature; Study on Modernism in Central Europe
Associate Professor
YOSHIDA, Kotaro (M.Lit.)

German Literature and German Culture; Study on Cultural History in Eighteenth-Century Germany
Specially Appointed Associate Professor
TELGE, Claus (Ph.D.)

German literature, literary and cultural theory, world literature in translation