Japanese History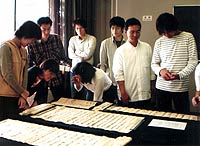 "In 1600, the Eastern Army led by Tokugawa Ieyasu defeated the Western Army led by Ishida Mitsunari at Sekigahara." Any textbook of Japanese history says this; yet it is not self-evident. To prove the fact, we need to take various steps, exploring many historical documents. To date, students must have studied history by reading books written by a number of scholars. At the university, however, students will be asked to determine their own study themes, collect historical documents and materials, and study using their own original approach to reach a conclusion.
To develop the abilities essential for such studies, this course provides students with seminars and lectures concerning individual periods of Japanese history. After developing basic abilities for studies, students are asked to present their own views in the form of a graduate thesis.
In the Japanese History seminar room, both graduate and under-graduate students hold lively discussions daily. In spring and autumn, study tours are organized to historic sites. Students are expected to develop their academic abilities through these programs, as well as in the classrooms.
Professors
MURATA, Michihito (Ph.D.)

Early Modern History of Japan; System of Rule in Early Modern Japan

IIZUKA, Kazuyuki (M.Lit.)

Modern History of Japan; The Popular Rights Movement, Local Politics and a Local Autonomy System in the Meiji Period

KAWAI, Yasushi (Ph.D.)

Medieval History in Japan
Associate Professors
ICHI, Hiroki (Ph.D.)

Ancient History of Japan

NOMURA, Gen