Japanese Literature and Japanese Historical Linguistics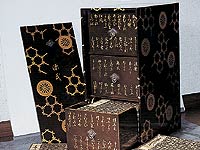 The department offers a wide range of studies in the field of Japanese literature that ranges from ancient period to the present day. The study targets include; classic prose and poetry written during each period, the modern and contemporary novella, Chinese poetry written by the Japanese literary personalities.  The famous classical works such as The Tale of Genji, The Tales of Moonlight and Rain, and major works of modern writers (e.g. MORI Ogai, NATSUME Soseki, KAWABATA Yasunari, MISHIMA Yukio and so on) are discussed in detail. The analysis of literary works based on thorough understanding of texts, philological approaches, and bibliographical knowledge of the literary figures are highly emphasized.  The viewpoints of the other fields of study, such as the histories of art, society, religion are also referred.
In the field of the Japanese Historical Linguistics, students study characteristics of Japanese language in view of its historical development from ancient times to the present day, as well as such topics as phonemes, characters, vocabulary, and grammar. In addition to logical and systematic studies of various linguistic phenomena, consideration is given to social, cultural and psychological aspects. Although the studies use as materials all sorts of Japanese literary works, including classics, together with other documents written in Japanese, the focus is on the historical development of the language and on the study of historical documents.
Professors
KINSUI, Satoshi (Ph.D.)

Japanese Linguistics; Historical Study of Japanese Grammar

IIKURA, Yoichi (Ph.D.)

Japanese Literature; Study on Japanese Literature in Edo Period

KATO, Yosuke (M.Lit.)

Japanese Literature; Study on Japanese Literature in Heian Period

OKAJIMA, Akihiro (M.Lit.)

Japanese Linguistics; History of Japanese Language and Japanese Linguistics
Associate Professors
KISHIMOTO, Emi

SAITO, Masao (Ph.D.)

Japanese Literature; Study on DAZAI Osamu and ODA Sakunosuke; Japanese Literature in the 20th Century

YAMAMOTO, Yoshitaka

SETA, Michio