280 years of history, to be continued in the future
Origin of Kaitokudō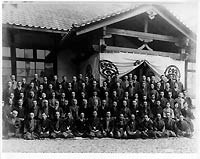 Kaitokudō, the merchant academy that was the predecessor of Osaka University, was established by the tradesmen and artisans of Osaka in 1724 and contributed to the development of academic disciplines and business ethics in Osaka for approximately 140 years in the late Edo period. Because it had produced excellent academics, such as the Nakai brothers (Chikuzan and Riken), Nakamoto Tominaga, and Banto Yamagata, it is said that Kaitokudō once used to be as prosperous as Shoheizaka Gakumonjo of Edo. Osaka University is as comprehensive a university as its precursor, Kaitokudō.
Carrying on the spirit: the School of Letters, Osaka University
Kaitokudō was reconstructed in 1916 after its closure in 1896, supported by the Kaitokudō Kinenkai (Memorial Association). Since the restoration, Kaitokudō had been beloved by many citizens of Osaka as a city college as well as a school of letters until it burned down during the bombing of Osaka in 1945. Kinenkai donated 36,000 items that fortunately survived the war to Osaka University in 1949, upon the establishment of the School of Letters. Since then, Osaka University has been engaging in all sorts of activities in cooperation with Kinenkai.
"Knowledge" and "Ethics" open to society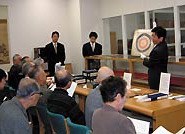 The School of Letters played a crucial role in conducting these activities. In 1976, the "Kaitokudō Library Catalog" was published for the 25th anniversary of the School of Letters. The school also offers lectures that are open to the general public, such as memorial lectures in the spring and fall and lectures on classics, in cooperation with Kinenkai. Throughout the years, the spirit of freedom and creativity has remained unchanged since the establishment of Kaitokudō.
Kaitokudō Center
The School of Letters has established the Kaitokudō Center to publicize Kaitokudō's attractions. At the center, visitors can enjoy the panels of valuable materials and the digital contents displayed.
Kaitokudō in the Heisei era
As we enter the 21st century, Kaitokudō is evolving in a new direction. Our new initiatives –including comprehensive research on library materials, digitalization of information, and archiving – are receiving attention from both inside and outside of the school.