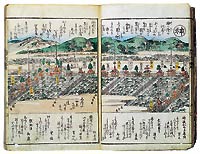 The study of Japanese Historical Linguistics pertains to the diachronic and synchronic research of the phonemes, characters, transcription, grammar, and vocabulary that make up the Japanese language throughout its development from ancient times to the present day. Whereas Japanese linguistics is primarily concerned with the study of the language in its present form, the emphasis in Japanese Historical Linguistics is placed on diachronic research, examining the language that appears in literature stretching back across the ages.
A core tenet of the discipline is substantiation through literature. Therefore, in addition to a specific research topic, students are also required to possess a rich, general knowledge of Japanese literature.
The 2019 cohort consisted of 19 graduate students, including five from overseas. All faculty members offer individual instruction on masters and doctoral dissertations and conduct thesis-writing workshops in groups of three. The department also works in conjunction with the Japanese Literature and Comparative Literature departments to host an interim master's thesis presentation in October, and research presentation meetings in July and November. Students are encouraged to present their research at academic conferences.
The faculty is also home to the Society of Historical Studies in Japanese Vocabulary and the Linguistics Colloquium on Saturday.
Professors
OKAJIMA, Akihiro (M.Lit.)

Japanese Linguistics; History of Japanese Language and Japanese Linguistics

KISHIMOTO, Emi (Ph.D.)

Japanese Linguistics; Missionary Linguistics in Japan, Historical Lexicography
Associate Professor