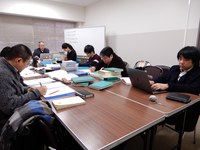 In Indian and Buddhist Studies, students work with texts written primarily in classical Indian languages (Sanskrit, Pali, etc.) to explore Buddhist and Indian classics spanning various fields, including thought, religion, language, literature, and history. The curriculum includes various original reading comprehension exercises and seminars to help prepare students to write their masters and doctoral theses.

Students in the undergraduate and graduate departments comprise the elite few who have worked diligently at their language study. The department is fully equipped with vast amounts of the historical sources necessary for the study of India and Buddhism. Students also have access to plenty of working space, and computers are provided for their research. There is a great deal of communication among students as well as between students and educators. In this environment, students can acquire the necessary knowledge and skills needed to make the most of texts and sources and to gather and apply information about the newest research and recent academic trends domestically and abroad.

Faculty members are actively involved with teaching and research activities outside the university, and many of our former teaching assistants, assistant professors, and graduates remain active in the academic field, studying abroad or taking up teaching posts after obtaining their PhDs at major national universities.
Professor
DOYAMA, Eijiro (Ph.D.)

Indology, Historical Comparative Linguistics; Grammatical Study on Indo-Iranian Languages (Vedic, Avestan, Old Persian etc.)
Associate Professor (Lecturer)