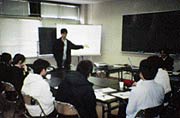 This program split off from the Philosophy and History of Philosophy programs and was established as an independent section in 1998.

The program's foundations lie in modern Western philosophy and science, and the section aims to actively approach various pressing social and cultural questions from a philosophical perspective.

Specifically, the program covers vast swathes of Western philosophy, ranging from Descartes to contemporary philosophers as well as the history of science and technology, and recognizing globalization through an emphasis on the acquisition of applied English-language skills. The program is also actively engaged in outreach activities, such as the Science Café series. The program's objective is to enable graduate students to apply practical elements of philosophy throughout society.

Program activities are conducted in close cooperation with the Philosophy and History of Philosophy programs with regular academic communication, study groups, and reading groups to facilitate collaboration.
Professors
MOCHIZUKI, Taro (Ph.D.)

History of Modern Philosophy, French Philosophy in the 17th and 18th centuries; Metaphysics and Natural Philosophy from Descartes to Ideologists

NAKAMURA, Masaki (Ph.D.)

Science and Technology Studies, Science Communication, Research Ethics, Higher Education Studies