Message from the Dean
Welcome to the School of Letters and Graduate School of Letters
Dean of the School of Letters and Graduate School of Letters
Satoshi  Kinsui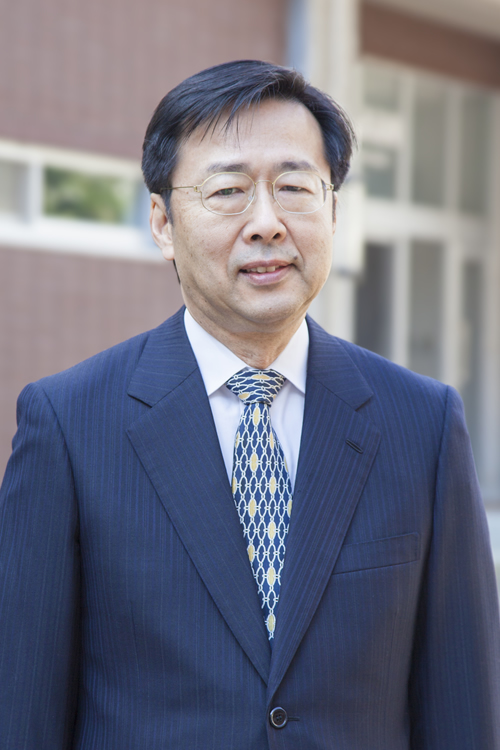 The Graduate School of Letters at Osaka University was founded in 1948 and originally comprised three divisions in the traditional humanities fields of philosophy, history, and literature. Since then, we have been steadily evolving, establishing new and unique departments such as the Division of Aesthetics (1973); the Division of Japanese Studies (1986); and, in order to address contemporary issues, the interdisciplinary Division of Studies on Cultural Dynamics, established in conjunction with our integration with Osaka University of Foreign Studies in 2007.
Today, we are engaged in education and research in the humanities from a range of perspectives, as indicated by the names of our graduate and undergraduate programs. We have been steadily expanding the topics we cover; we provide students with a diverse array of opportunities in a variety of fields. Our programs enable students to participate in modern medical venues and learn the latest theater management techniques; we also help students develop the linguistic and research abilities needed to study eastern and western cultures and languages, including Chinese, Latin, and Sanskrit. With various fields of research available, students acquire knowledge in a wide range of areas and learn to examine issues from diverse points of view
Recently, it appears that the government, media, and other sources have frequently begun to hint that the humanities departments at national universities, ours included, are not necessary. However, in today's Japanese society, is that really the case? Is it furthermore the case that the products of our graduate and undergraduate programs are not beneficial to society? I would like to consider these questions in light of the recently often-heard term, resilience.
Resilience is a concept that originates from the field of psychology and expresses the ability of a person to return to a healthy psychological state following a misfortune or accident. Resilience is sometimes translated as "fukugenryoku" or "kaifukuryoku." It is my personal belief that the humanities perform the important function of increasing the resilience of a society. A society that pursues a single ideal, or a simplistic economic efficiency, will conversely age and destabilize, its foundations becoming vulnerable to adversity and social change. On the contrary, a of knowledge of the humanities, furthered by graduate and undergraduate schools of letters, offers a deep and constant viewpoint that is multifaceted and has the power to present society with a variety of alternatives to resolve modern problems. Another characteristic phenomenon is that solutions to problems of the modern times are often revealed through the process of study and debate afforded by the perusal of timeless classics. Furthermore, there are already a number of reported examples regarding the role of art in bringing about social revival. An evaluation of the companies in which our alumni are employed would well substantiate this argument. In fact, I encourage you to see the third-party evaluation report of 2015 targeting public corporations (Third-party evaluation report).
With their emphasis on freedom and independence, our graduate and undergraduate programs offer many courses that are open to everyone, drawing on the spirit of Kaitokudo, a merchant academy in Osaka in the 18th and 19th centuries that was open to all, regardless of social class. In addition, this year we will launch a number collaborative research activities, called "clusters," based on global and societal cooperation, and we will actively advance our research and education efforts on a global scale. And also in the spirit of globalization and international cooperation, many of our school's graduate and undergraduate students have traveled abroad through various programs and grants with the goal of opening up our education and research to the world. We have been actively exchanging students with major European universities through the Erasmus Mundus Masters Programme and the International Student Activity Program (ISAP), as well as supporting their study abroad through utilizing the "Education Yume Fund."
To sum up, I earnestly and wholeheartedly extend an invitation to everyone to participate in our graduate and undergraduate programs and experience the true pleasure of studying the humanities.
---