Message from the Dean
Welcome to the School of Letters and Graduate School of Letters
Dean of the School of Letters and Graduate School of Letters
Shinya  Fukunaga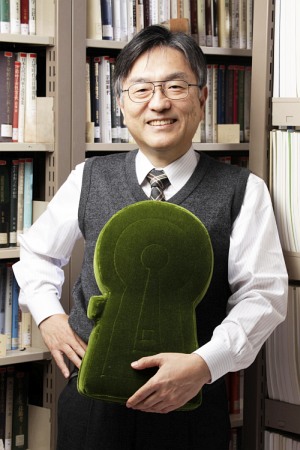 The Graduate School of Letters/School of Letters at Osaka University, which was established in 1948 shortly following the end of World War II, commemorated its 70th anniversary in 2018. The Graduate School of Letters/School of Letters originally comprised traditional academic disciplines such as philosophy, history, and literature; later, unique divisions were established, such as the Department of Aesthetics in 1973 and the Department of Japanese Studies in 1986. Following the graduate education reform that was enacted from 1998 to 1999, Osaka University was consolidated with Osaka University of Foreign Studies in 2007 when the Division of Studies on Cultural Dynamics, a cross-sectional education program incorporating contemporary issues, was established. Since then, the school has steadily developed over the years into its current form.
   The Graduate School of Letters/School of Letters is a place where you can learn arts and humanities, with a focus on studying the various expressions of human thought, culture, and art, as well as the history as an accumulation of such activities. Studying in this school will provide you first and foremost with an opportunity to observe and examine human activities from multifaceted perspectives and seek different ways of answering questions that you have set for yourself.
   I believe that the attractiveness of the study of humanities lies in the opportunities to transcend the limitations of space and time and communicate with craftsmen and authors who lived in the past by means of language, writings, historical sources, works of art, and unearthed artifacts, as well as with living beings. If you consider archaeology, which is my area of specialty, the discovery of a dwelling site that dates back to the Yayoi period gives you the opportunity to directly communicate with anonymous people who lived two thousand years ago through the remnants of unearthed clay pots and stone artifacts. Such communications would provide you with some clues about how you live a human life and how the world should be handed over to the next generation.
   From this website, it is clear that the Graduate School of Letters offers 23 disciplinary and 4 course programs, and the School of Letters provides 20 programs on a variety of arts and humanities fields; thereby, research on human cultures across literary all ages and countries is conducted. It encompasses a broad range of interests, including the development of linguistic and research competence to gain access to the thoughts and cultures of people in ancient Japan and Eastern and Western countries by learning languages such as old Japanese, Chinese classics, Latin, and Sanskrit, along with principal languages such as English, German, and French. It incorporates academic participation in contemporary medical practice and theatrical management and collaboration with local governments to build a community by taking advantage of the investigation and research conducted on ancient sites, as well. You can swim in this wide-ranging sea of intelligence to develop yourself.
   Osaka University expends university-wide efforts to teach each program with clear objectives and policies. The graduate course focuses on providing students with the latest and most advanced knowledge, skills, and literacy and international ways of thinking regarding their field of study. It fosters individual design prowess to identify an issue and discover ways to solve it in their own ways. Further, the undergraduate course focuses on the acquisition of knowledge and skills, literacy, international ways of thinking, and design prowess regarding the students' field of study.
   Under these policies, the Graduate School of Letters/School of Letters offers educational programs that balance three types of knowledge: disciplinary, interdisciplinary, and co-created knowledge. Regarding the development of international ways of thinking, "Global Japan Studies," which is a sophisticated subprogram involving learning Japanese studies from an international perspective, will be officially launched from this year onward, and a variety of educational opportunities will be provided through programs such as Erasmus Mundus Masters Programs, ISAP, and foreign exchange programs to affiliated universities.
   Approximately seven million years have passed since humans started bipedalism and diverged from apes. How can we sustain the human society whose complexity increases in face of the numerous emerging challenges associated with environmental change, natural disasters, ethnic disputes, globalism, and regional disparities? In 2015, the United Nations announced 169 targets of its sustainable development goals, in which the word "culture" appears six times. I strongly believe that the role and significance of arts and humanities, that is, research on human activities, involves presenting a sustainable human future through cultural research, and the Graduate School of Letters/School of Letters provides the means to enter into these specialties.
   Kaitokudo was a school in early modern Osaka that emphasized the development of individual freedom and independence and provided education regardless of whether the learner was a townsman or samurai. The Graduate School of Letters/the School of Letters, which has its spiritual origin in the academic activities of Kaitokudo, aims to cultivate a spirit of research on arts and humanities among students by facilitating open debates between faculties and students. Osaka University makes a persistent effort to become one of Japan's principal universities that support the study of arts and humanities, and we look forward to learning with you.
---