Details on the 2021 Program Guidance (Orientation)
The independent orientation (guidance) for the Global Japanese Studies Program will take place online via Zoom at the date and time listed below. Please use the link below to register for the orientation, and you will be sent the URL needed to participate by e-mail. It is also possible for undergraduate students to consult with us about Japanese Studies courses offered in English, so undergraduates should feel free to participate.
Date: Friday, April 8, 2022
Time: 12:15PM to 1:15PM (you may enter and leave at any time during this period)
The necessary English elective courses for the program (and courses offered in English to undergraduates) will be held in a HyFlex real-time format. This means that the courses can be taken either in person or online, so students can attend whether they are on or off the Toyonaka Campus.
Links to the 2021 Program Flyers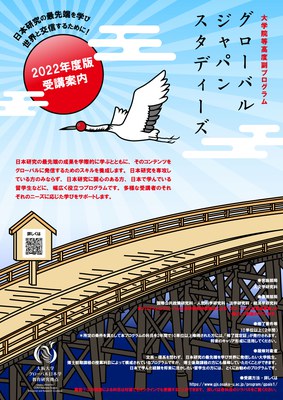 (Several Japanese Studies courses in this program are also offered to undergraduates.)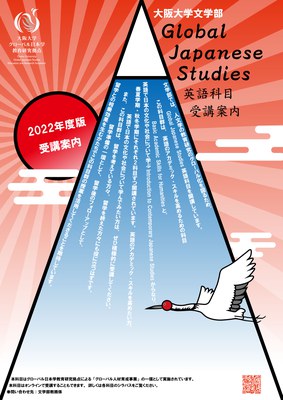 The time has come to reevaluate the state of research on Japan. Why not refresh your understanding of Japan from broader perspectives, using new methods?
The School of Letters offers the Global Japanese Studies Program as one of the Graduate Programs for Advanced Interdisciplinary Studies . The Global Japanese Studies Program promotes the study of a broad range of cutting-edge research on Japan as well as the skills required to communicate research outcomes in English. Therefore, the program is open to all students interested in Japan and those who want to improve their techniques for academic communication.
A Certificate of Completion is issued to graduate students who fulfill the program requirements and attain at least 10 credits in Global Japanese Studies courses within a 2-year period. The Certificate of Completion serves as proof that the recipient undertook serious study of Japan at the postgraduate level, so it should be particularly useful for the career development of students whose main field of research is not Japan. In particular, we hope that exchange students studying at Osaka University will make use of the Global Japanese Studies Program.
Objectives of the Global Japanese Studies Program
Today, the state of Japanese Studies is being called into question.
It is beyond doubt that Japan is the most rich and prolific center of humanities and social science research on the Japanese language, culture, and society. However, the advanced research taking place in isolated fields has not been unified adequately, and further, domestic research accomplishments in Japanese Studies have not been communicated in sufficiently impactful ways overseas. In other words, there remains a great deal of room for research from Japan to advance the development of Japanese Studies worldwide and to contribute to global studies on the humanities and social sciences. The Global Japanese Studies Program was founded as an interdisciplinary and international attempt to realize this potential. Thus, the core purposes of this program are to learn about cutting-edge Japanese Studies research taking place in Japan today, and to acquire skills in using English to convey the results of one's own research to a broader international audience of humanities and social science scholars.
We hope that many students will make use of this program, which takes domestic research on Japan as a starting point for nurturing scholars who can make new contributions to the humanities and social sciences on a global scale.
Overview of the Global Japanese Studies Program
For a Japanese-language explanation of the program, please click here .
Completion of the program requires 10 credits. One course (2 credits) in English academic skills and one lecture course in English (2 credits) are required. The remaining 6 credits should be attained by taking one course apiece in 3 different fields: history, literature, linguistics, the fine arts, or law/government/economics. Please see the Japanese-language link above or the 2021 program flyers for more details on the courses that are part of this program.
Registration for the Program and Courses
Registration for the program takes place on KOAN at the beginning of each semester. Please register for Global Japanese Studies courses at the same time you register for the program.
Contact Information
Please use the addresses below if you have any questions.